Miheehee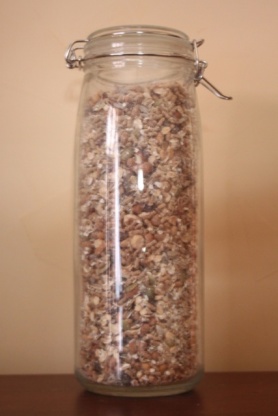 Adapted from the _Lip Smakin' Vegetarian Backpackin'_ cookbook. "Ranger Rick", the contributing backcountry gourmet, says "I make this in big batches and eat it almost daily on or off the trail. The dried fruits and nuts can, of course, be varied to your taste." I adapted his ratio of 3c grains to 2c nuts to 2c seeds to 3c dried fruits to my tastes and began eating it almost daily as well. At home I like it mixed with blueberries and french vanilla yoghurt; at work, I replace all the nuts with soy nuts (many of my co-workers and students have nut allergies) on the trail, I mix 1/2 a cup of the muesli with a package of flavored instant oatmeal and hot water.
Mix all ingredients together in a large bowl.
Store and use as you would your regular muesli.