ChefLee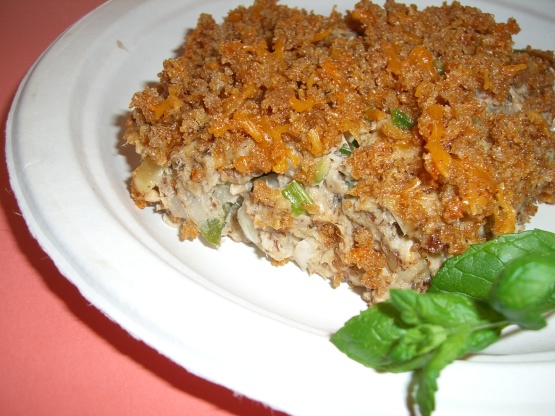 I try to create healthy meals that actually taste good. This casserole has 3 heavy-hitters from the omega-3 good fats; salmon, flax, and walnuts. It tastes like crab cakes which I love! I hope you enjoy it!

Top Review by Deb G
If you're tired of salmon patties, I recommend you try this! We enjoyed this and will have regularly, I am sure. I wasn't really expecting it to remind me as much of crab cakes (which I also love) as it does. I made two intentional changes: left out the cardamom and subbed pecans for the walnuts. I halved this recipe to use 1 can of salmon, so I used just the white of an egg. I accidently left out the flax seed meal and the celery after I had bought both for this, but I will include them next time. I baked in a lightly greased 9 x 5 pan. Thanks for posting.
Preheat oven to 300 degrees F.
In a large bowl, flake apart the salmon and remove any large bones. Mix in the flax meal, walnuts, lemon juice, jalapenos, celery, onion, cardamom, and Lawry's.
In a little bowl, beat your egg then mix in mayonnaise and dijon mustard. Add mayo mix to the salmon mix and blend well.
Pour the salmon mix into a lightly greased 8X11 glass baking dish.
In a medium bowl; mix the breadcrumbs, cheese, paprika, and melted butter then sprinkle over the salmon.
Bake, uncovered, for 40 minutes or until heated through.