Oma's Boterkoek (Dutch Buttercake)
Jessiica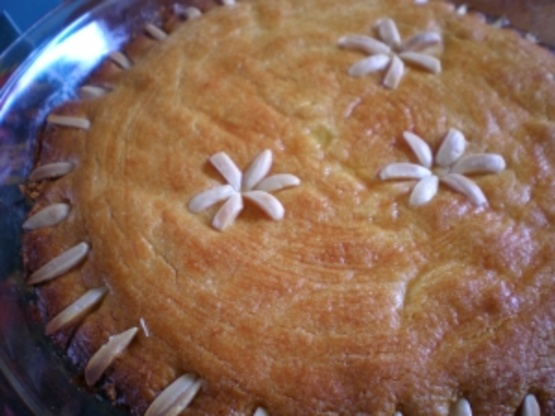 This is Boterkoek (Dutch Buttercake) just like my Oma (grandma) used to make. She passed away over a year ago now and I really started to crave it. I hope you like it as much as I did growing up! :)
My family has 0 dutch heritage, so I made this recipe on a whim, not knowing what to expect. Absolutely delicious! I followed the recipe (except for the almonds) and baked for 27 minutes. The middle looked a little soft, but the edges turned brown and crispy, and it smelled amazing. I'd like to try mini ones or a square pan than can be cut into bars. Will that work?
In medium bowl, mix together butter, sugar and almond extract.
Add beaten egg except for 1 teaspoon.
Sift flour and baking powder, and add to bowl, mixing with wet ingredients.
Put dough in greased 9 inch pie plate.
Mix the reserved 1 tsp of beaten egg with 1 tsp of water, and brush over dough.
Sprinkle with sliced almonds, if desired. (My Oma always used the almonds, it looks pretty and adds a nice touch!).
Bake at 350°F for 25-30 minutes or until done (firm to the touch).
This is a dense cake, but should be soft on the inside and hard on the outside, but not too hard!