Oma's Boterkoek (Dutch Buttercake)
Jessiica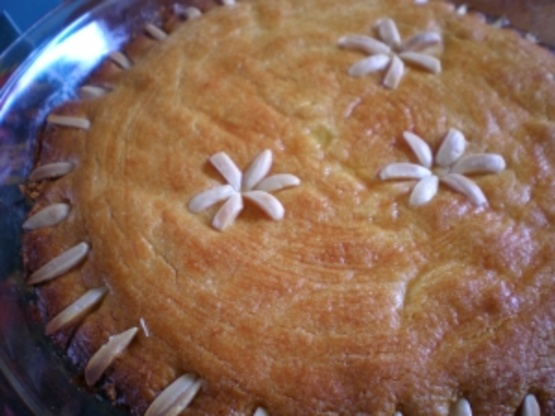 This is Boterkoek (Dutch Buttercake) just like my Oma (grandma) used to make. She passed away over a year ago now and I really started to crave it. I hope you like it as much as I did growing up! :)
I'm actually Dutch and have made actual boterkoek dozens of times as a kid. My girlfriend has been using this Oma's Boterkoek recipe several times, and it always comes out way too dry and crumbly (but still tastes good). So I've reviewed this recipe and compared with actual Dutch ones, and the problem is that this recipe requires 2/3 cup of butter with 1.5 cup of flour, whereas Dutch recipes require approximately 1.5 cup of butter with 1.6 cup of flour. To be perfectly clear, it's 375g of flour, 340g of butter, 270g of sugar, 1 egg and the other stuff. The boterkoek should be so buttery that you're basically full after one slice. Remember, it's called boterkoek (butter cake) and not bloemkoek (flour cake) and not suikerkoek (sugar cake), so give the butter some love. Whenever you feel like you're adding enough butter because you measure things in cups, think again. We put butter on our peanut butter sandwiches, because we call peanut butter "peanut cheese" and therefore require more butter. We put butter on Christmas pastries in order to make them more buttery. We put butter on our cheese sandwiches. So whenever you're being cheap on the butter, just Dutch it.
In medium bowl, mix together butter, sugar and almond extract.
Add beaten egg except for 1 teaspoon.
Sift flour and baking powder, and add to bowl, mixing with wet ingredients.
Put dough in greased 9 inch pie plate.
Mix the reserved 1 tsp of beaten egg with 1 tsp of water, and brush over dough.
Sprinkle with sliced almonds, if desired. (My Oma always used the almonds, it looks pretty and adds a nice touch!).
Bake at 350°F for 25-30 minutes or until done (firm to the touch).
This is a dense cake, but should be soft on the inside and hard on the outside, but not too hard!