Omani Khabeesa -- Farina or 'Cream of Wheat'
Debbwl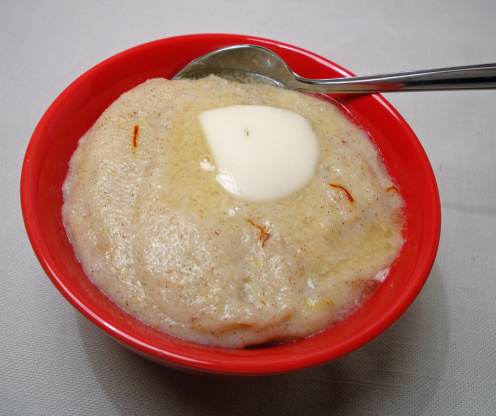 When I discovered how few recipes representing Oman were on the site, I went searching. The NA/ME Forum will be spending January 2013 exploring the country & here is my culinary contribution. **2 of 3 people LOVED this! It took awhile for it all to come to a boil & from there I simmered 5 minutes. It thickened upon standing. Enjoy!**

Top Review by Debbwl
Cream of wheat made with milk has always been a great comfy way to start the day but the addition of saffron and cardamom adds a delightful new exotic twist. I did not use the rose water option and used 1% milk as I was using butter and have to watch the fat intake. Super yummy and will be enjoying again, thanks for the post.
Combine all of the ingredients in a sauce pan with a whisk. Bring to a boil.
Reduce heat to the lowest level and simmer for 10 minutes, stirring occasionally.
Serve warm topped with a bit of butter, if desired.