Kim127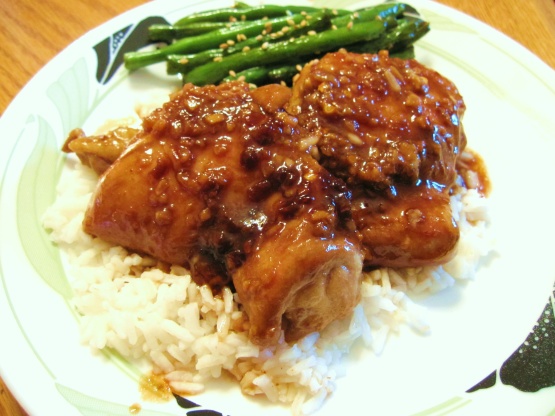 This recipe came out of the Oregonian in Portland, Oregon. It looked good. I haven't tried it yet.

This is great chicken! Next time I would dice the chicken before cooking it, and maybe double the sauce. I thought that the 1 teaspoon of red pepper flakes made it the perfect amount of spicy, but I like pretty spicy foods! For those that don't, this dish would still be delicious with less, or without it. This was very quick and easy too. Thank! I'm sure I'll make this again!
Mix together vinegar, soy sauce, honey, and ginger. Set aside.
Heat oil in large skillete over medium heat.
Add chicken and cook, turning, about 10 minutes or until brown on all sides.
Add garlic and red pepper, cook stirring 2 to 3 minutes.
Add vinegar mixture, cover and cook about 15 minutes or until chicken is fork tender.
Uncover, cook about 1 to 2 minutes or until sauce is slightly thick.
Serve with rice.