Sageca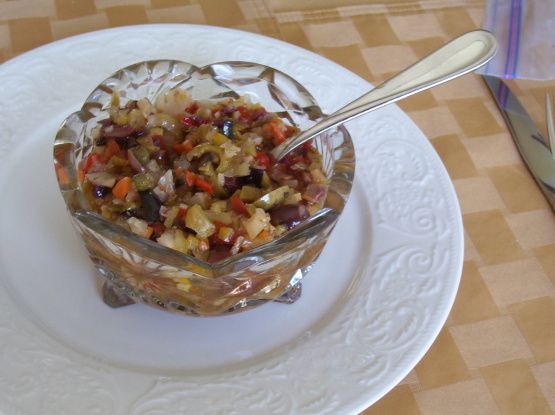 A few years ago I tasted the olive salad on the Muffuletta in N'awlins and I knew I had to learn to make it. After many trials and errors I think maybe this one is pretty close.We eat it on and with just about anything.

Awesome olive salad! I scaled this back to .25 and found that it was very easy to make - the toughest part was waiting for the flavors to mingle, but I'm sure glad I did! I was running low on kalamata olives so reduced them and used more green olives to make up for it. Since I made just enough to eat within a week or so, I didn't seal this in jars, just put it in a container with a tight fitting lid. I served with Recipe#304628 and they were a wonderful combination. Wouldn't change a thing! Made for ZWT4.
Whisk together reserved olive brine, oregano,pepper and vinegar until well combined. Whisk in olive oil in a slow steady steam.
Chop first seven ingredients. Look at my picture to give you an idea of the appearance. Blend all ingredients in a bowl.
Pour dressing over salad and refrigerate at least 24 hours to allow the flavours to blend. Seal in jars.
Keep in refrigerator.
I use my processor on the Pulse Mode to chop my ingredients; be careful not to pulverize them; you have to be able to see what you are enjoying.
Cooking time means refrigerator time.
I'm sure folks from that area might find my recipe strange but I tried to bring back that special taste here @ home.