Olive Quick Bread With Cumin and Oregano
Annacia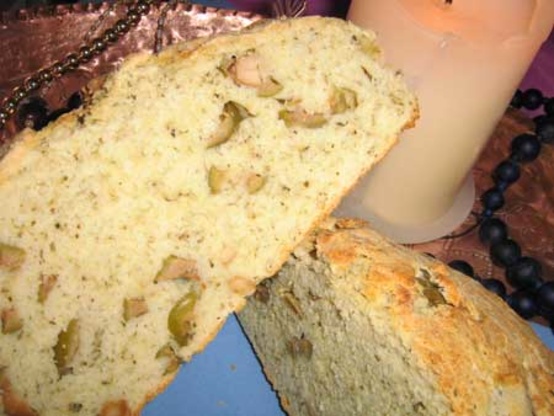 An easy quick bread. Add walnuts if desired. Perfect for an Italian or Greek dinner. From Pop It, Stir It, Fix It, Serve It.

I got around to maki8ng this today. It was easy to prepare andI didnt have a mess to clean up after, just 1 bowl. I have the same thing happen it didnt brown on the top .Maybe I didnt put enough oil on the top. All that being said It was very good and we polished the loaf at suppertime but kept 1 slice to take for lunch tomorrow. I will make it again for sure .Hubby was very impressed with mine but he didnt see what it should have looked like. brenda
Preheat oven to 350°F
Coat a 9x5-inch loaf pan or a baking sheet with oil or nonstick spray.
Combine flour, baking powder, salt, oregano, and cumin in a medium-sized mixing bowl. Stir with a fork or whisk to distribute.
Add beaten egg, milk, and oil. Stir until moistened. Stir in olives and nuts if using.
Smooth dough into 9x5-inch loaf pan, or form dough into a ball shape, place on pan, and flatten into a round about 3 inches high and 8 or 9 inches in diameter. Brush a little olive oil on the top if desired.
Bake about 40 minutes, or until brown and knife inserted into the center comes out clean.