luvcookn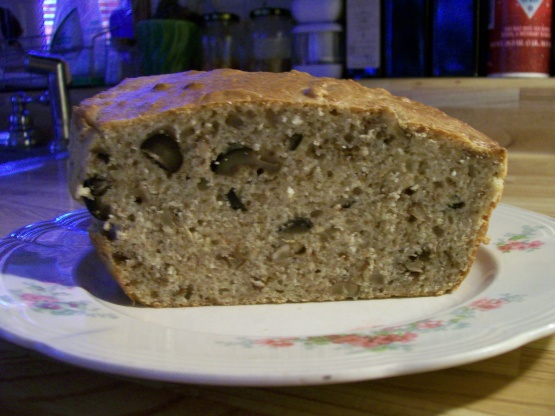 I found this in a new cookbook from the Visiting Nurses Ass'n. of Central Jersey. Thanks Karen Rossiter!

i don't believe i have not reviewed this incredible, delicous bread. easy and olivey and we love it. i always use kalamata olives because i love the strong flavor. i make it at least once a week and it usually lasts through one meal. yyuumm
Place rack in lower third of the the oven and preheat to 350F.
Grease a loaf pan.
Whisk together the first 5 ingredients.
In a bowl, whisk eggs, milk, and oil.
Add the flour mixture and lightly mix together.
add the nuts and olives.
Stir until blended.
Place batter into prepared loaf pan.
Bake 40 to 45 minutes or until toothpick comes out clean.
Cool 10 minutes and unmold onto rack.