Ms B.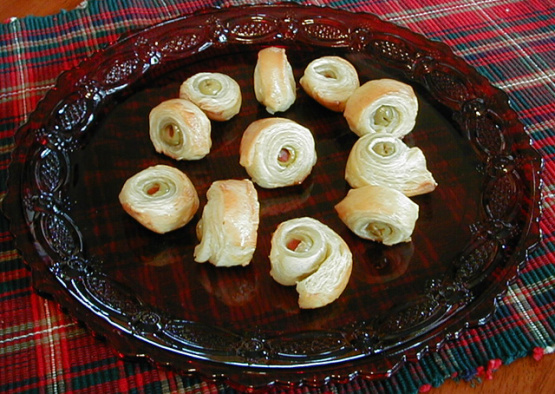 I prepared these little puff pastry wrapped olives last Christmas and saw them disappear very quickly. You could use the jalapeño stuffed, garlic stuffed, anchovy stuffed, or even kalamata olives instead of the pimento ones. They can also be rolled in sesame seeds, poppy seeds, or grated Parmesan cheese before baking to give a bit more flare. This recipe was originally published on Allrecipes.com. That site stated that they could be made ahead and frozen, allowing 30 minutes for the pastry to thaw before baking.
Preheat oven to 400 degrees F.
Cut puff pastry into strips about 6 inches long and 1/2 inch wide.
Wrap each olive with a strip of pastry.
Place on a baking sheet lined with parchment paper.
Bake for 20 minutes, or until golden brown.