twissis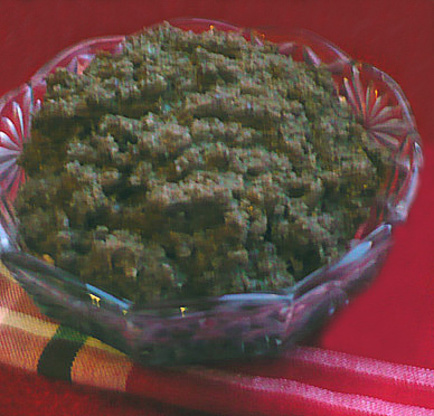 Spread on croutons, pungent olive paste sets off all kinds of foods-fresh mozzarella, tomatoes, roasted peppers, grilled eggplant, and hard boiled eggs. The paste keeps more or less indefinitely in the refrigerator. Adapted from Deborah Madison's Vegetarian Cooking for Everyone cookbook.

This stuff is great! DH is diet-restricted for milk products, cheese, most seasonings & sadly most things that make ordinary food taste really good. 1 thing he can have in an unlimited amt & happens to love is black olives. So I target black olive recipes, often use them to elevate the flavour factor & was inspired by your recipe. Pasta is also a food item he can have in an unlimited amt, but simple boiled rice, macaroni, cous cous, etc seriously need a flavour factor. I made a dbl recipe of this in minutes using a lrg wide-mouth glass jar & my hand-held blender ... which made it an ingredient-friendly quick-fix w/virtually no clean-up. Then I served it added to cous cous along side a meatloaf & carrots for our dinner last nite. We both liked it a lot & he even had it this morning on toast & asked me to do my best to keep it on-hand at all times. This was a huge success for us & has joined my BEST OF 2012 selections. Thx for posting this recipe for us. (Pic will post later today)
In a food processor, pulse to make a smooth paste of the olives, capers, garlic, and thyme(if using dried).
Add the olive oil while the food processor is running.
Season with black pepper and add the lemon juice(and thyme if using fresh).
Enjoy!