Olive Oyl's Treat for Popeye (Spinach stuffed Mushrooms)
Derf2440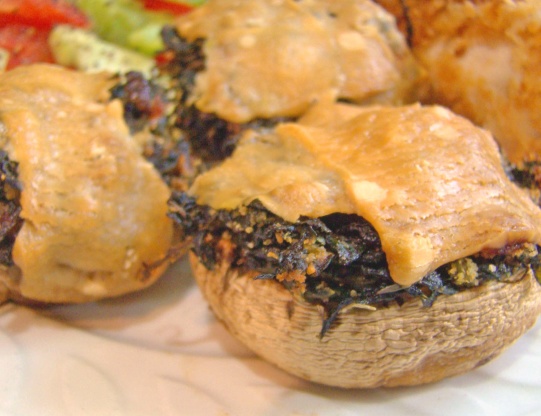 Even people that don't like spinach will like these gems. Lovely hors d'oevre or side dish. Try serving these at your next brunch

This recipe combines two of my most favorite ingredients--mushrooms & spinach. I used a box of frozen spinach (thawed & squeezed very dry), and it worked very well. I sorted & cleaned the mushrooms, and made the stuffing the day before I planned to make them, which made the preparation on the day of my party very easy. Everything turned out just fine. These were soooo good at my Christmas party--my guests were lucky to get any!
Butter a cookie sheet with 1 tbsp butter and place mushroom caps, face up on it.
In a large skillet heat butter and allow to melt.
Add Onions and thyme.
When onions begin to brown add chopped mushroom stems, spinach and bread crumbs.
Continue to cook on medium to high heat until tender and moisture has evaporated approximately 5 minutes.
Remove from heat add parmesan, salt& pepper, stir well.
Stuff each mushroom with filling, use all the filling.
Sprinkle remaining butter over the caps.
Bake 375F degrees oven for 15-20 minutes.
Eat your heart out Barnacle Bill!