Prep 20 mins
Cook 20 mins
A tasty easy quick bread, goes with just about any meal. I like to make it for something different when company comes.
Directions
Chop parsley & set aside. Thinly slice onions.
Mix biscuit mix with parsley & water. Spread into a 8x8-inch square pan.
Sauté onions in butter until golden brown. Season with salt & pepper to taste.
Combine sour cream, egg, dill weed, onions & olives.
Spoon over bread mixture. Bake at 450° for 20 minutes. Cut into squares to serve.
Most Helpful
This was very unique and very tasty. I used pitted kalamata olives, which were really flavorful. The end result was rather cake-like in texture, with the sour cream mixture layer sitting on top. The onions were really nice and the overall result was very hearty. Thanks for sharing this! Made for Spring PAC 2010.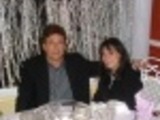 Tasty and easy, yes. I added garlic powder to the dough mixture, surprised the recipe didn't call for any. Will definitely make this again, possibly adding parmesan to the dough next time. Thanks!