Olive Oil with Rosemary and Pink Peppercorns
Rita1652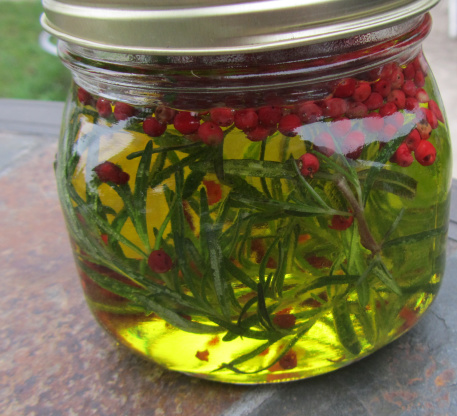 From Aglaia Kremezi. Use this oil to season steamed potatoes and grilled meat, poultry or fish. 1-2 weeks standing time.
Rinse and dry the rosemary branches.
Place them in a clean and absolutely dry 2-cup bottle with the peppercorns.
Fill with the olive oil.
Cover and keep in a cool, dark place for a week, shaking from time to time, before using.
This oil will keep for 3-6 months stored in a cool, dark place.
Note: Taste the oil at the end of the week.
If you want a stronger flavour, pass the oil through a sieve, discard the rosemary and peppercorns, and repeat the procedure using fresh rosemary and peppercorns.
Leave the herbs and spices in the bottle as you use the oil.