Olive Oil Mashed Potatoes
NELady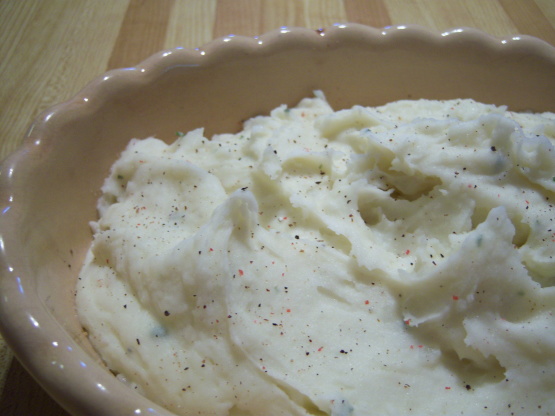 With only three ingredients salt, potatoes and extra virgin olive oil, and you are rewarded with a divinely creamy and buttery dish of mashed potatoes. Yukon Gold potatoes have a naturally unique buttery flavor with no butter added! Ordinary salt is one of the ingredients here. Use any salt you like, but (imo) great salt will give even more great flavor! I can't wait to try this with different varieties of salt to discover the differences. I think this recipe leaves lots of room for experimenting with flavored or infused extra virgin olive oil and various salts. Experimenting is half the fun! Let me know what you use please. I am so interested! I do not know much about Kosher or Jewish food and cooking but I think these might even work well there as well. Discovered in Gourmet Magazine, Paris! 9/2008.

Nothing wrong with these... but nothing spectacular either. I used some of the best Greek EVOO available (it is phenomenal!), which is why I wanted to try them for Easter dinner. MEH. They were just okay. No reason not to make my regular ones with sour cream, chives, and bacon. Thanks, though... the whole reason I have been a member of Zaar all these years is to try new recipes!
Rinse and cut potatoes into 2 inch chunks. Place in a pot with cold water and salt. I like to use just enough water so the potatoes are covered as more flavor is retained. Cover and cook until boiling. Tilt the cover to allow steam to escape and reduce heat just to the point where potatoes are not cooking over. Cook until tender, about 12-15 minutes.
Remove and reserve 1 cup of cooking liquid while draining potatoes well. Leave in strainer.
Heat extra virgin olive oil in same pan over medium heat just until the oil is warm. Remove from heat.
Force potatoes through a ricer into pot containing warmed olive oil.
Gently fold in cooking water, stirring only if needed to combine.
Taste and season with more salt and some fresh cracked black pepper, if desired.