Olive Oil, Herb and Garlic Bread
momaphet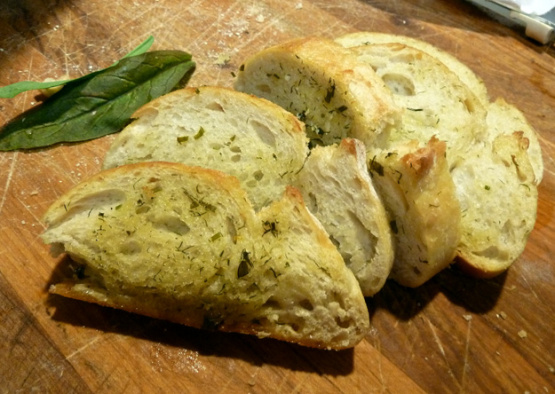 Once made and wrapped in foil, prior to baking, loaf can be frozen for up to 2 weeks.
This was a nice alternative to our usual garlic bread, it was the perfect accompanyment to the salad with vinaigrette dressing I also served- my DH said you had to alternate bites! I found a little sprinkle of kosher salt brightened up all the flavors, and I really like the lemon which was an unusual flavor in garlic bread. Made by one of your Wild Bunch mates for ZWT 8
Pre heat oven to 200 degrees Celsius.
Cut bread into 1.5 cm thick slices but do not cut all the way through.
Place oil, lemon rind, garlic, herbs, salt and pepper into a bowl.
Mix well, brush over both sides of each slice of bread.
Wrap bread tightly in foil.
Place on baking tray.
Bake 20 - 25 minutes or till hot.
Slice all the way through and serve.