Olive Oil, Garlic, and Crushed Red Pepper Pasta Sauce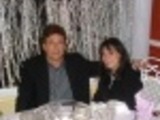 A staple in an Italian household, this is thrown together easily from ingredients always on hand. Makes a simple pasta dinner along with a salad or a nice side dish. Just toss with one pound of cooked pasta (I like it with spaghetti).
Directions
Heat the oil in a large saucepan over medium heat. Add the garlic and cook, stirring, for 30 seconds, making sure it doesn't brown. Add the pasta water, red pepper, salt, and parsley and bring to a boil. Toss with cooked pasta.