Olive Garden Zuppa Toscana
Anonymous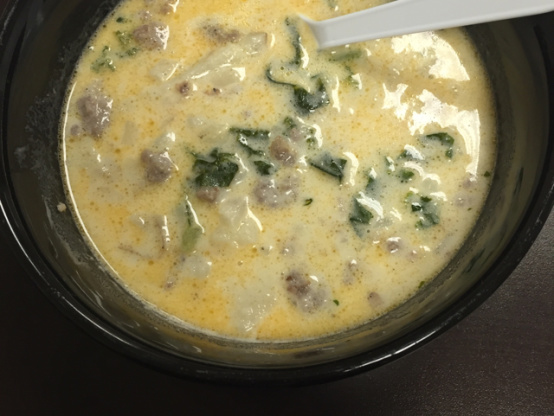 I used Italian turkey sausage, and turkey bacon. I also added 1/2 tsp hot pepper flakes.

Fantastic soup, Since I made it the first time 3 weeks ago I have had to make it two more times, both double batches. This was a huge hit with both my picky eater hubby as well as my Sicilian dad. I did adjust the recipe/process a bit by the third time. I don't cook with exacts so I know my measurements were off each time but it turned out faboo. Definitely double the recipe if you want any leftovers for lunch or to freeze. So here are the adjustments I made. I used one tube of Bob Evans hot sausage instead of 1 1/2 cups. I cooked the sausage, then the bacon in the soup pot. After each was done cooking I put it to the side. Then I took out most of the bacon fat (and saved to the side to use with burgers one day) and left about 1 tbsp to cook the onions in. I dumped in the onions and let them caramelize in the pan while I chopped up the crispy bacon. When I added the water I increased the amount by at least a cup, since my husband really liked the broth. I also cooked the soup a bit longer to give the potatoes a creamier texture. It was absolutely delish and I will use this recipe over and over. Thank you so much for posting it!
1 1⁄2 cups spicy sausage

2

medium potatoes, cut in half lengthwise and cut into 1/4 inch slices
3⁄4 cup onion, diced

6

slices bacon
1 1⁄2 teaspoons minced garlic

2

cups kale leaves, cut in half, then sliced

2

tablespoons chicken base

1

quart water
1⁄3 cup heavy cream
If sausage is in links, take out of wrapper (or slice).
Cook ground sausage, until done. Cook bacon and onion over medium heat, when bacon is crisp, take it out of the pan and leave the onion.
Add garlic to the onion, and cook 1 minute.
Add chicken base, water, and potatoes; simmer 15 minutes.
Crumble bacon.
Add crumbled bacon, sausage, kale and cream.
Simmer 4 minutes, then serve.