Olive Garden Salad (Copycat)
Parsley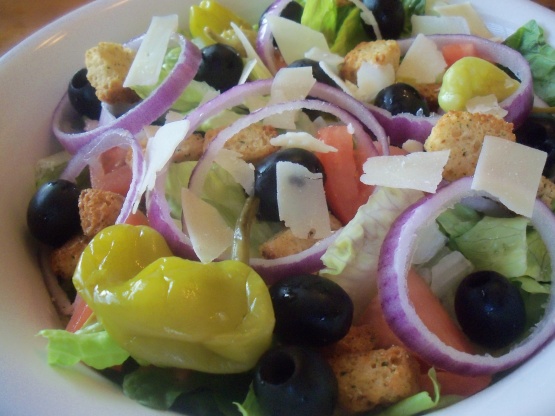 My whole family loves Olive Garden's Salad! There are already a couple of recipes here for the dressing, so here is a recipe for the salad itself.

This recipe is -SPOT ON- a match for Olive Garden Salad! Right down to the bagged pre-chopped lettuce. Olive Garden starts with bagged pre-cut lettuce, adds some cut onions, cut tomatoes and a few canned black olives and pepperoncini and croutons - just like this recipe. Really? Come on! If you really want to one-up the OG salad - make this recipe, do yourself a favor and at least start with a whole head of iceberg and chop it yourself. It's not that hard to do, but then your salad will not taste exactly like Olive Garden. Or do you really like the taste of bagged lettuce? You decide...
In a large glass or wooden salad serving bowl, toss together the lettuce mix, onion slices, olives, pepperoncini, tomatoes, and croutons. Add dressing and toss to combine.
Serve with fresh Parmesan cheese and black pepper to taste.