Olive Garden Pollo Limone (Lemon Chicken)
Pam-I-Am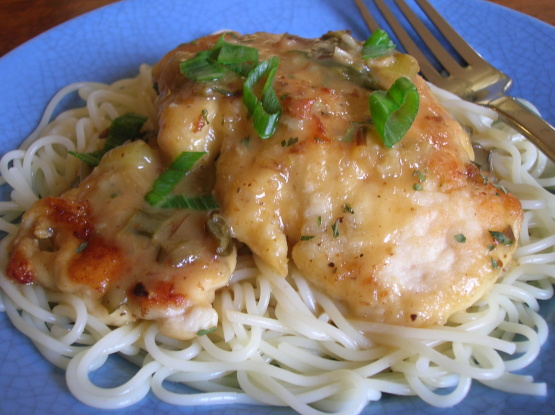 This recipe originally came from the Olive Garden website but I have changed a few of the steps after trial and error in my home chicken. We have a thing for lemony chicken in my house and this is one of the favorites.

This was very delicious. The sauce was very lemon-y which matched beautifully with the chicken breast. I thickened the sauce with corn starch after removing the breasts and the sauce was wonderful on rice. A really nice balance of flavours with the lemon, wine, and parsley! The key was browning the breasts and removing before quite cooked through and then finishing the cooking in the sauce, so that they were just barely cooked and therefore moist and flavourful!
Pound chicken to 1/4 inch thickness.
Season chicken with salt and pepper.
Heat 1 teaspoon of the oil over high heat.
Lightly coat chicken with flour shaking off excess.
Cook in skillet until brown and nearly cooked through.
Remove chicken and reserve on the side.
Add 1/2 tsp oil to the skillet reducing heat to low.
Saute green onions and garlic until tender.
Deglaze the pan with broth and wine (scraping browned bits from pan).
Add lemon juice and parsley.
Bring mixture to a boil over high heat (3 min).
Add lemon peel and salt and pepper to taste.
Return chicken to skillet and coat with sauce.
Cover skillet for 5 minutes over medium-low heat turning chicken once.
Plate the chicken and top with sauce and parsley for garnish.