Olive Garden Copycat Zuppa Toscana
iamafoodblog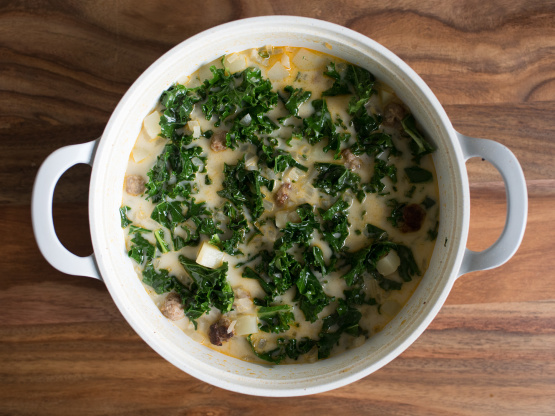 This is a clone of the Olive Garden Zuppa Toscana. Tried and true, approved by former Olive Garden chefs.

Yum yum yum... this soup totally blew me away... it's DELICIOUS. As a former Olive Garden employee who has the taste of Zuppa Toscana burned in my tastebuds, I can truly say that my soup tonight came out as a PERFECT match. I did customize this recipe with the help of previous readers, so I recommend following it like this... I used 1 lb of hot Italian sausage, 3 medium to large potatoes UNPEELED, 1 small onion, 3 strips of thick sliced bacon, 4 cloves of garlic, 3 cups of kale (veins removed and sliced thin like ribbons), 32 oz of chicken broth, 2.5 cups of water, and 1 1/4 cups of half and half. I removed the casings from the sausage and browned the meat in a skillet, then putting aside in a stockpot. Then in the same skillet, I cooked the bacon and onions side by side, and put the onions in the stockpot, and went to work chopping up the cooked bacon and also putting in the pot. Then I sliced up all the potatoes... leave the skins on!... it creates awesome ribbons in the soup that add texture and flavor. I sliced them lengthwise and then in half into 1/4 inch thick triangles. Then I put the chicken broth, minced garlic, and water and let boil for about 30 minutes, until the potatoes were tender. Then I added the kale and half & half and let simmer another 15 minutes or so until the kale was tender as well. Although the hot sausage left a reddish colored film on top of the soup, it properly seasoned the soup without needing crushed red pepper (which the real OG recipe includes). Remember this soup should have a nice zing to it so I found that hot italian sausage worked beautifully. What a fabulous soup for this chilly weather!! Bon Appetit!
Chop or slice uncooked sausage into small pieces and cook until browned and meat is ground in bottom of your soup pan over med-high heat.
Add onions, garlic, salt, pepper, and red pepper flakes to Sausage and cook until onions are clear and aromatics of the seasonings blend together.
Reduce heat back to medium and place, potatoes, in the pot. and slowly add the Chicken Stock and water and stir. (use Chicken Bouillon envelope for extra flavor is Chicken Stock is weak).
Cook on medium heat until potatoes are done and stir occasionally. Once Potatoes are done, Add flour or cornstarch and simmer for another 15 minutes.
Reduce heat to lowest setting and sprinkle in your kale and cooked bacon and slowly pour cream while stirring.
Check for taste and then serve.