Olive Garden Chicken With Lemon Marjoram Sauce
diner524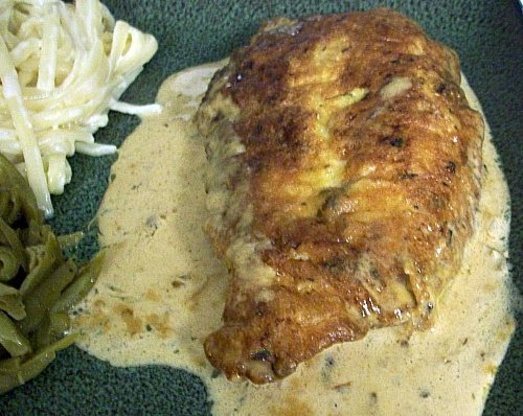 I made this for dinner tonight and it tasted fabulous! It was the best Chicken Picatta recipe I have ever had. I made some changes since I first posted the recipe, and suggest you double the sauce if you want to top pasta in addition to the chicken. Personally, I serve it with garlic mashed potatoes. (I save the little garlic containers I get from Papa John's Pizza and mash them into my potatoes -- easy and yummy)

Tasty recipe. The only thing that I did wrong is add 2 Tbsp dried parsley & I realize now that it s/b 2 Tbsp fresh. I changed a couple things; sub'd yogurt for the heavy cream, cut the butter by 1/2 & added 1/4 tsp of essence seasoning to the flour mixture. I ran short of piccatta batter (& was out of eggs) so I added abit of milk/yogurt to finish the chicken pieces at the end. I guessed & went alit heavy on the lemon zest so it turned out abit tart so I will be more careful the next time I make this one. Fairly easy recipe to make & well worth the time & effort when you taste all the flavours that go into this dish, thanks for sharing.
680.38

g boneless skinless chicken breasts, split and pounded flat (4, 6 oz. portions)

236.59

ml flour, seasoned with
salt and black pepper

3

whole eggs

78.07

ml fresh parmesan cheese, grated (preferably a combination of grated parmesan and romano cheese)

14.79

ml fresh parsley, chopped

14.79

ml fresh basil

177.44

ml olive oil (or as needed)

59.14

ml shallot, finely chopped

14.79

ml garlic, chopped

29.58

ml fresh marjoram, finely chopped

29.58

ml parsley, chopped

59.14

ml lemon juice

14.79

ml lemon zest

118.29

ml white zinfandel wine

236.59

ml heavy cream

85.04

g unsalted butter, cold

0.25

ml salt and pepper (to taste)
Preheat oven to 350°F.
PICCATTA BATTER:.
Combine eggs, cheeses, parsley and basil together in a large mixing bowl.
CHICKEN:.
Flour the chicken breast in the flour mixture and dip it in the Piccatta batter.
Coat evenly on both sides.
Heat the olive oil in a large skillet on medium heat.
Carefully place it in the skillet and fry.
When edges are golden brown, turn over and brown the other side.
Transfer chicken from pan and place it in baking pan.
Place in a 350 degree oven for 10-12 minutes.
Using the pan the chicken was cooked in, drain all but 1/4 of the oil.
Over medium heat add the shallots, garlic and herbs, saute until the shallots are transparent.
Add the lemon juice, lemon zest, white Zinfandel wine and reduce the liquid by 1/2.
Add the heavy cream and simmer until the sauce has thickened slightly.
Remove sauce from heat and whip in the cold butter.
Season to taste with salt and pepper.
Pour 2 oz. of the sauce on the plate and place the chicken on top and serve.