Olive Garden Chicken Caprese
Prep 30 mins
Cook 30 mins
I guessed at the cooking time listed as I have not made this yet.
Make and share this Olive Garden Chicken Caprese recipe from Food.com.
8-10 plum tomatoes, Roma (2 pounds)
30 medium fresh basil leaves
9.85 ml black pepper
59.16 ml extra virgin olive oil, divided
118.29 ml white wine
44.37 ml garlic, minced, divided
354.88 ml heavy cream
17.25 ml italian seasoning, divided
236.59 ml parmesan cheese, grated
7.39 ml salt, plus
14.79 ml salt, divided
236.59 ml vegetable oil
473.18 ml mozzarella cheese, shredded
354.88 ml flour, plus
14.79 ml flour, divided
453.59 g dry capellini (angel hair)
Directions
Tomatoes and Basil Preparation:.
Core and cut Roma (plum) tomatoes into 1-inch pieces. Chef's Note: To preserve juices and seeds, use a paring knife to remove just the top of the core on each tomato.
Cut basil leaves into 1-inch pieces (no stems).
Combine Roma tomatoes, basil, 2 tablespoons of extra virgin olive oil, 2 tablespoons of minced garlic, 1½ teaspoons of Italian seasoning and 1½ teaspoons of salt in a large bowl and blend thoroughly.
Cover, set aside and refrigerate for at least 1 hour.
Chicken Preparation:.
Preheat oven to 350 degrees Fahrenheit.
Coat a large, non-stick skillet with vegetable oil and heat over medium-high heat.
Combine 1½ cups of flour, 1 tablespoon of salt, black pepper and 2 teaspoons of Italian seasoning in a shallow dish.
Dredge chicken in the mixture, shaking off any excess.
Place chicken in skillet and sauté for about two minutes on each side, or until just golden brown. If skillet is not large enough, sauté the chicken in batches.
When finished, transfer chicken to a large baking dish and place in oven to cook for approximately 10 minutes or until chicken is cooked through and the internal temperature reaches 165 degrees Fahrenheit.
Pasta Preparation:.
Cook pasta according to package directions.
Drain and set aside until needed.
Sauce Preparation:.
While pasta is cooking, heat 2 tablespoons of extra-virgin olive oil in a medium sauce pan over medium heat.
Add 1 tablespoon of minced garlic and sauté for approximately 1 minute. Do not brown.
Slowly add 1 tablespoon of flour and stir to combine.
Add white wine and bring to a boil. Boil for approximately 1 minute.
Remove marinated tomato and basil mixture from refrigerator. Drain tomatoes and basil from liquid and set aside until needed. Add ½ cup of the marinade liquid and sauté for approximately 1 minute.
Add heavy cream. Lower heat and bring to a simmer.
Add grated Parmesan cheese.
Assembling Chicken Caprese:.
Preheat broiler.
Remove chicken from baking dish and set aside until needed.
Transfer pasta to baking dish and partly coat with sauce.
Pour desired amount of the remaining sauce on pasta and evenly distribute tomatoes and basil over pasta.
Place chicken on top of pasta.
Sprinkle shredded mozzarella cheese evenly over chicken.
Place baking dish under broiler for approximately 2-3 minutes or until mozzarella cheese has melted.
Reviews
Most Helpful
Changes: added broccoli, red peppers, onions, mushrooms, shrimp. Used cubed rotisserie chicken instead of breasts. Added a bit more white wine and 1/2 cup more half and half (instead of heavy cream). Tossed everything together and baked for 1hr @ 300 degrees. Will add diced japapeno peppers next time to make it spicier.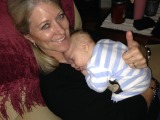 My wife and I like to try new things and this dish was lovely. The sauce complaint is I would think to taste as my wife and I are
I have made this dish multiple times and it is alot of work but has earned rave reviews from all family! One of our "'special" meals!