Olive Garden Angel Hair and Three Onion Soup
Boomette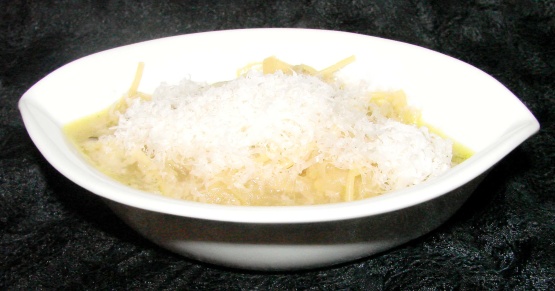 This is a delicious soup that I got directly from Olive Garden's web site.

This is a really good soup. I took the advice of others and added an extra vidalia onion. I do agree that 6 cups stock is not enough, the pasta soaked it all up. Next time I will add 2 extra cups of stock. I decided not to add any extra seasoning and it has a great flavor as is. I used very little olive oil and cheese in my recipe because we are dieting. I will be adding this to my collection. I ate this soup as a side to my chicken salad.
Place oil and all onions in a large sauce pan over low heat and saute, stirring occasionally, about 20 minutes, until onions are golden.
Add stock and salt to taste.
Sprinkle with red pepper flakes and simmer for about 1 hour.
Add pasta and parsley and cook until pasta is just al dente.
Ladle into soup bowls.
Sprinkle with grated Romano cheese.