megs_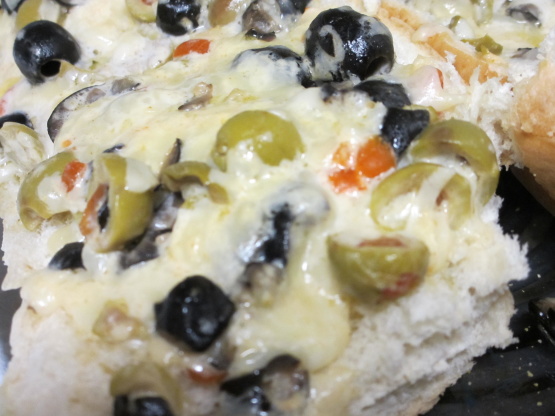 Another delish one courtesy of Pioneer Woman. Posting for safe keeping.
Excellent! I used 1 - 6 oz can of black olives and 1 - 7 oz jar of pimento olives and I added 2 cloves of minced garlic. I fed this to my boyfriend and the other guys in the neighborhood for testing (lol) and they loved it! This was so easy, definitely a keeper.
Rough chop black and green olives.
Combine green onions and olives with the softened butter, mayo, and cheese. Mix thoroughly.
Slice french bread in half lengthwise. Spread mixture evenly over halves.
Bake at 325 for 25 minutes or until thoroughly melted and starting to turn light brown and bubbly.
Can make mixture 2 days ahead, spread on unbaked bread and freeze too!