Bergy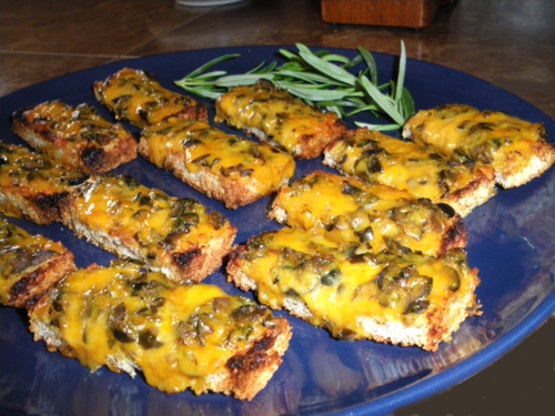 A very good "do ahead" recipe, quick, easy and tasty. You can make the olive spread the day before or do it all at once. These freeze well. Just thaw before broiling. I flatten the bead slices with a rolling pin before toasting one side.

This is an absolute perfect, perfect, taste sensation! AND easy too! I followed instructions exactly, including the "rolling pin" to the bread prior to baking. The olives - the cheese - all of it, so wonderful, and perfectly crisp too. I highly recommend this - and this is a must try! We didn't have enough left over to save to freeze! YUM! Thanks for posting!
Mix olives, cheese, mayo, onion powder & curry.
Arrange bread on an ungreased cookie sheet and toast one side under the broiler. Turn over and spread with the olive mixture (you can now freeze the slices and broil when thawed) and broil for 2 to 3 minutes until bubbly.
Cut each slice intp 4 triangles.