Olive and Sun-Dried Tomato Bread
twissis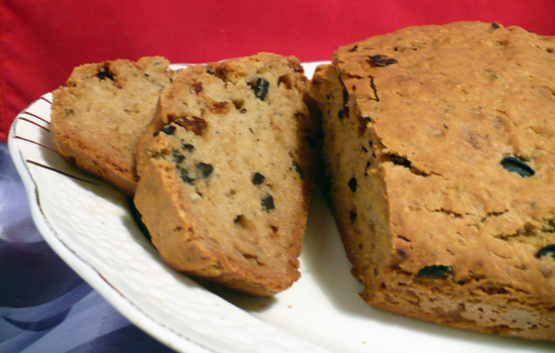 A recipe I got from an insert in a low-fat margarine. I prefer to bake my own bread as I can then add "goodies" such as skim milk powder, lsa mix and bran flakes to increase the goodness in the bread.

*Yum* ! I am a long-standing yeast-phobe, so savory breads that are an easy-fix + tasty like this are happy finds for me. I used my always reliable Recipe #5274 by HELEN PEAGRAM to make the self-raising flour, used the olive oil option & baked it in an oblong casserole dish as I am w/o a loaf pan now. Late in the prep, I made my only chg to the recipe. It had such a Mediterranean feel to me, so I added garlic powder = to 2 cloves of garlic + 1 tsp of McCormick Classic Herbs Italian Seasoning. The sun-dried tomato flavor comes thru nicely here & my condo smells divine! Thx for sharing this recipe w/us. Loved it! :-)
Preheat oven to 190 Degrees C and line 23 x 13 cm loaf tin with baking paper.
Mix together all ingredients and pour into tin.
Bake for 45 minutes.
Cool in tin then serve sliced.