Pam-I-Am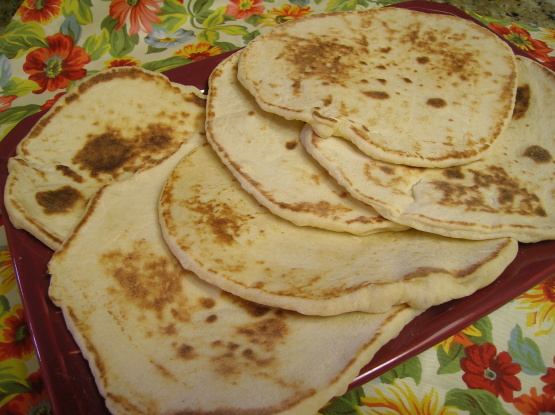 Olga bread just like from the restaurants. I found it on another site but it was so good I had to share it.

I haven't made the bread yet, but I used to work at olga's....the dough came premade and already in frozen dough balls. we would tray the doughballs and they would rise. as they rose, they dried out a little, and then they were rolled, and then immediately cooked. instead of rising in one big portion, it might help to portion them out before rising. since they dried out a little, they were less sticky and didn't stick to the rollers. also, when they rose, they became nice and round, and gave it the nice equilateral circle shape. good luck! can't wait to try the recipe!
Scald milk, remove to large bowl.
Add honey, margarine and salt to milk.
stir until margarine is melted.
Set aside to cool until lukewarm.
Combine yeast, warm water and sugar.
stir until sugar is dissolved.
Set aside.
Add 1 1/2 cups of the flour to lukewarm milk mixture and beat well.
Mix in egg and yeast mixture.
Add remaining flour, a little at a time, until sticky dough is formed.
Turn out on a floured surface, knead about two minutes.
Dough will be sticky, (but don't add more flour).
Place dough in oiled bowl.
Turning once to oil whole surface of dough.
Cover with plastic wrap and let stand in warm place until doubled in bulk.
Punch down dough; divide into 16 equal pieces.
Roll each piece to a thin rough circle about 8-1o inches in diameter.
Heat a large dry skillet over medium-high heat; do not use any oil.
Bake 15 seconds, flip and bake about 10 seconds on other side, until mottled brown spots appear.
Cool and store in a plastic bag.
Makes: 16 olgas.