Linky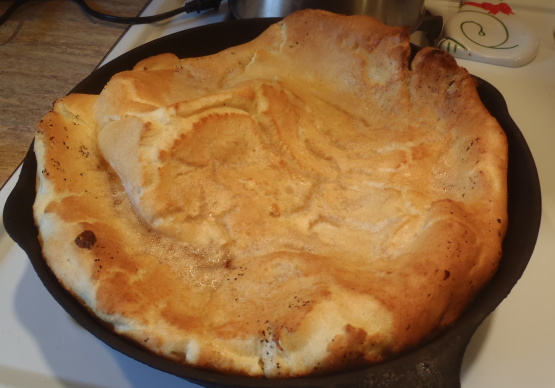 This recipe came from an old cookbook that my sister found at a garage sale in Sudbury, that's Northern Ontario, Canada. It is fast and easy and different. We love it with lots of warm Canadian maple syrup! I love that there is no flipping or pan watching involved in this one.

Top Review by Gerry
This made for a WOW! Like Bubbles we found it easy to make and delicious. The teenager said awesome! Being the only nutmeg fan here I used everyones favorite, cinnamon instead. A zmail from Annie assured me there was no need for baking powder and I followed her suggestion to add apples - melted some butter in a pan added three thinly sliced apples, some cinnamon and a tablespoon of brown sugar - added the apple mix to bottom of hot pan topped it with the batter. So appealing with the pouffed up sides and tasted as good as it looked! Tasted like a combination of pancakes, french toast and bread pudding! Three of us emptied the pan and were looking for more! Thank you AnnieCan for this old fashioned recipe that has been added to my Breakfast Buffet Cookbook - can't wait to serve it to my next 'over nighters' as well as for our special weekend breakfasts ... it's just that good!
Turn oven on to 425'.
Put butter in large (10 inch) ovenproof fry pan (I use a 4 litre sauté pan) and put the pan in the preheating oven.
In medium mixing bowl, whisk together the eggs and milk.
Sprinkle in the sugar, nutmeg and flour. This means, just dump in the dry stuff.
Whisk it all together until it is smooth.
Remove hot pan from the oven, swirl the butter around and then dump in all the batter.
No need to spread it or mess about, just pop it back into the hot oven uncovered, close the door and sit back with a cuppa and wait.
Set that timer for 16-18 minutes.
Remove from oven and slice into wedges, in my house that means half for me and half for my husband!
This is great served with warm maple syrup, from annieCANada of course.
Now enjoy. If you are having a big breakfast and you actually have leftovers, rest assured that this pancake tastes great at room temperature, cold or reheated.
Gotta love that!
B'Shalom everyone, Anne.