Old Time Ham Salad (For Sandwiches)
Prep 20 mins
Cook 30 mins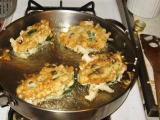 Yes, this is the REAL DEAL, folks -- this is the super great-tasting ham salad spread that you used to be able to buy at the mom and pop stores back in the '50s and '60s. It makes a lot but it will go fast. I could eat these ham salad sandwiches on sesame-seed buns with a little lettuce every day of the week. Don't use cheap bologna in this recipe or you'll be disappointed -- I like to use Kahn's Club Bologna. Also, you'll need some sort of meat grinder to make this -- a food processor does NOT yield a good consistency. I use my Kitchen-Aide Grinder attachment. Enjoy!
Directions
Run all ingredients, except mayonnaise and Karo syrup, through a meat grinder. Add the mayonnaise and Karo syrup to the blend and mix with a spoon until ingredients are uniformly incorporated. Refrigerate.
Serve cold on fresh buns or bread along with leaf lettuce.
Most Helpful
Our family has tried to find a ham salad recipe like the one we used to bring back from Ohio on vacation trips. We have tried for many years...our search is over. This recipe is as good as it gets.