Old Time Chicken and Biscuits
Bayhill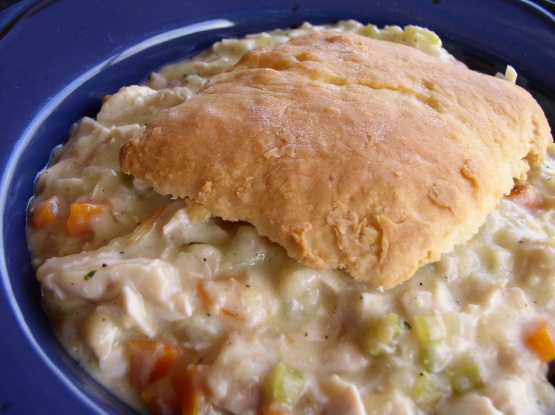 Homey and old-fashioned, this comforting dish can be on the table in a flash, thanks to store-bought rotisserie chicken and biscuits made with self-rising flour. This is a modernized version of the recipe that was home cookin' to my Texas family.
Delicious! This is comfort food at its best. Quick and easy to make, this was a big hit at my house. I doubled the gravy ingredients to give us lots of sauce, and because we like our sauce a little on the thicker side, I added more flour to get the consistency that we like. The dough for the biscuits was very sticky and a little hard to work with, but stick with it and it will come together. After removing the biscuits from the oven, I brushed the tops with butter to soften and add extra flavor. Thank you for sharing this wonderful recipe...it is definitely a keeper! **Made for Culinary Quest -Suitcase Gourmets**
Make Biscuits:.
Put oven rack in middle position and preheat oven to 450°F.
Blend together flour and butter in a bowl with a pastry blender or your fingertips until mixture resembles coarse meal with some small (roughly pea-size) butter lumps. Stir in milk with a fork just until a sticky dough forms.
Turn dough out onto a floured surface and gently knead 7 or 8 times, (Do not overwork, or biscuits will be tough).
Pat dough into a 9- by 6-inch rectangle on a lightly floured surface, then cut into 6 (3-inch) squares.
Arrange squares 1 inch apart on an ungreased baking sheet and bake until golden brown, 15 to 18 minutes.
Cool to warm on baking sheet on a rack.
Make Chicken In Gravy While Biscuits Bake:.
Cook onion, carrot, celery, salt, and pepper in butter in a 10-inch heavy skillet over moderate heat, stirring occasionally, until vegetables are softened, 8 to 10 minutes. Sprinkle flour over vegetables and cook, stirring, 1 minute.
Stir in broth and thyme and bring to a boil, stirring, then boil over moderate heat, stirring occasionally, 2 minutes.
Add half-and-half and chicken to gravy and gently simmer until chicken is heated through, about 3 minutes.
Stir in lemon juice.
To Serve:.
Halve biscuits and put each bottom half in a shallow bowl.
Spoon chicken in gravy over biscuit bottoms and cover with biscuit tops.