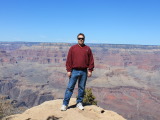 These are the beans my French-Canadian mother used to make. She never measured anything making these so I've estimated the amounts. These taste great with fresh bread. A good dish to keep in mind for pot-lucks. You can add pork or weiners to it if you like. Bacon strips on top work well.
Directions
Soak beans overnight in water, then boil until tender (not mushy) Note: Soaking is not mandatory but it reduces boiling time.
Drain water and put beans in a large heavy pot or crock.
(5 liter Corningware works well) Add all ingredients together and mix.
Add enough water to cover beans.
Cover and bake at 325 degrees for about 6 hours.
Check beans while they are baking to add water to ensure they do not go dry.
Reviews
Most Helpful
Great recipe! I used the overnight soak method which seemed to work quite well. I had to split the beans between two dishes as I didn't have one single dish large enough. Be sure to keep a close eye on the beans as they do absorb the water while cooking, I added water about three times to my beans. Thanks for posting Paul!
My DH is French of Canadian decent from Maine. He loves these. I put a whole onion in the botton of the bean pot and cook for up to 8 hours. Blackstrap molasses are best. Cover the beans with thin slices of salt pork for the best flavor.
THESE BEANS ARE THE BOMB! I cooked about a cup and a half of dried navy beans (enough to fit in an 8x8 Pyrex baking dish when cooked), halved the "sauce" recipe, added water to cover, and baked at 325 degrees, covered, for 4 to 4-1/2 hours. They went back in the oven the next day to reheat; I added a little bit more water so they wouldn't dry out, and they were F-A-B-U-L-O-U-S! The boyfriend and I can't get enough of them! Excuse me while I check out the rest of Paul Elliott's recipes - THIS one was AWESOME! Thank you so much Paul (and your French-Canadian mother)!