Old Mill Restaurant's Signature Corn Chowder
CindiJ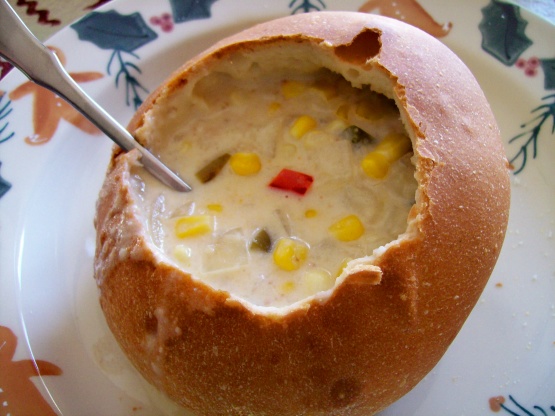 On a trip to Knoxville & Pigeon Forge Tennessee we ate at The Old Mill Restaurant. It's be in operation since 1830 and we had the most amazing Corn Chowder as the start to our meal. I prefer to use a ham base in this soup and the store bought is just as good as the homemade kind. This is a nice soup that tastes like it is more work than it really is.

Thank you for posting this recipe....we ate at the Old Mill a few years back and loved the corn chowder....I have tried several recipes but none have come close the Mill's recipe....now if I can find a recipe for their corn fritters....yummy!!!
Mix liquids and 1 tablespoon butter, add potatoes and onions, cook until done.
Mix cracker crumbs, flour and seasonings. Add to potato and onion mixture.
Sauté chopped bell peppers in remaining butter till tender.
Add to potato and onion mixture.
Stir to mix well, bring to boil; add half and half and corn.
Simmer for 15-20 minutes.
*Seasonings are to taste. Taste often and add extra as desired.