" Old Ladies on a Bus " Chicken
Boomette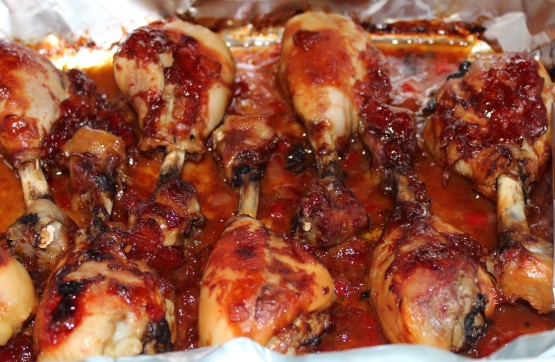 This recipe was supposedly developed from a conversation overheard between 2 old ladies on a bus. Many thanks to those old girls for a quick, easy, and tasty recipe.

Love this~ I had to triple the recipe because i had 3x the chicken, but i didn't change any of the proportions. I used chicken thighs, but the sauce became a bit fatty, i guess from the skin. I decided to skim the fat off, before i raised the temp. to 400* so i can get a good glaze on the chicken. I used Sweet Baby Ray's Hot and Spicy Sauce. Just a forewarning, this is an orange flavored recipe. it's not going to mellow out as you cook it. So if you do not like Chicken/fruit combinations, you are going to hate this. I think Pineapple Preserves would be a good substitute to Orange Marmalade.
Skin chicken, if desired.
Arrange chicken on a foil-lined 13x9x2-inch baking pan; set aside.
In a small bowl, combine marmalade, barbecue sauce, Worcestershire sauce, and lemon juice.
Pour over chicken.
Bake, uncovered, in a 350 degree oven for 45 minutes, spooning sauce over chicken occasionally.
Increase oven temperature to 400 degrees.
Bake for 15 minutes more or until chicken is tender and no longer pink.