Old-Fashioned Yellow Cake With Chocolate Icing
Prep 45 mins
Cook 25 mins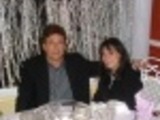 When I first got married, my husband told me that his favorite cake was a simple yellow cake with chocolate icing. I wanted to make a birthday cake for him from scratch, and this was the result. He never would eat a box cake again! This is especially nice with a tall glass of milk.
Directions
To make cake, preheat oven to 350°F
In a large bowl, beat shortening until light.
Slowly beat in sugar.
Add egg and egg yolks, one at a time, beating well after each addition.
Sift flour with baking powder and salt.
Add to batter in 3 parts, alternating with 3 parts milk.
Stir in vanilla.
Beat egg whites until stiff.
Fold into batter.
Pour batter into two buttered and floured 8-inch round cake pans.
Bake for about 25 minutes, until a toothpick inserted in center comes out clean.
Cool on a wire rack before icing.
To make icing, in top of a double boiler over simmering water, melt chocolate and stir in condensed milk. Beat until smooth.
Stir in butter, one piece at a time, stirring after each addition. Stir in egg yolk and vanilla. Beat until smooth and thick. (If the icing becomes too thick, thin with a little hot water.).
Reviews
Most Helpful
The cake turned out perfect in size. I even got both layers even which I rarely do with store-bought mix. It also had a great flavor but mine turned out a bit dry. I think I'm going to take it out of the oven a bit earlier next time.
Can't beat a good yellow cake with chocolate icing. This is wonderful and seeing I am not a chocolate freak perfect for me. Even DH loves it. Without the frosting (believe it or not it is good without) it makes a great base for strawberries, or whatever fruit you choose.
This recipe made an awesome cake JackieOhNo! No wonder your dh requests it for his birthday. It is very special. The cake & icing were quick and easy to make with spectacular results. The yellow cake was tall, moist, tender and light, had a lovely flavor, with a great crumb. The chocolate icing was out of this world. Soft, chocolately and velvety, thick, rich and decadent. Thank you for posting a new family favorite that my dh is still raving about. Made for May Swap/Aussie