Old-fashioned Vanilla Ice Cream
PaulaG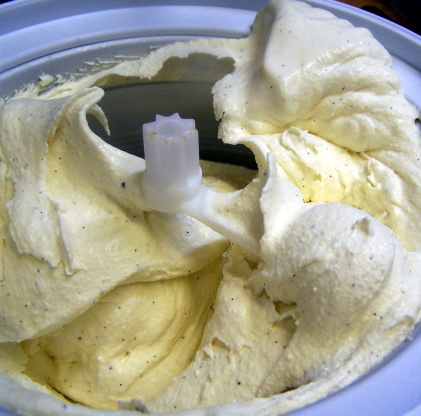 From Confident Cooking. Prep does not include freezing and churning.
Top Review by PaulaG
Everyone wanted to give this recipe more than 5 stars; however, that is as high as it can be rated. It is wonderful, creamy, dreamy ice cream. It was served with Knobby Apple Cake recipe #140400 and by itself. I used the old fashioned double boiler that I have and it worked like a charm. This is definitely a keeper recipe.
Place sugar and vanilla beans in medium heatproof bowl; pour milk over; set bowl into a pan of simmering water, but make sure it doesn't touch water; stir milk mixture until simmering.
Remove milk from heat; place yolks in heatproof bowl; gradually add milk to the egg yolks and whisk through thoroughly.
Return mixture to heat over simmering water; stir constantly over low heat until mixture coats back of spoon.
Remove from heat, set aside to cool; place plastic wrap directly onto surface of custard to prevent a skin from forming; cool; once cool, stir cream into custard and chill in refrigerator for atleast 4 hours, preferably overnight.
Remove vanilla beans from custard and scrape the seeds from the beans into the mixture; discard pods; pour the custard into an ice cream maker and follow manufacturer's instructions to make ice cream.