Old-Fashioned Sultana Cake
Kate A.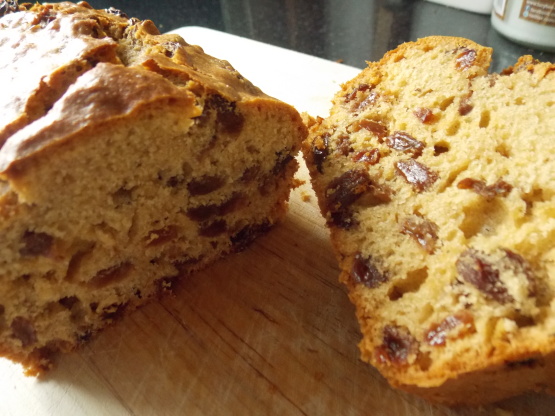 A simple sultana cake that keeps well or can be frozen

Since I love raisins in everything, I hoped this would be good. Your recipe did not disappoint! The cake was delicious, especially with a nice cup of tea. I will make this often.Thanks for posting.
Preheat oven to 150°C and grease a 20cm square or round cake tin.
Pick over the sultanas to remove any stem- nothing worse than a crunch in your cake.
Place sultanas in a saucepan and cover them with cold water. Bring to the boil and then drain off the water. Return sultanas to saucepan.
Stir in the chopped butter and set aside the sultanas to cool.
Beat together the eggs, essence and sugar. Then add in the sultanas.
Add your flour and baking powder to another mixing bowl and aerate with a kitchen whisk (or you can sift them together).
Stir the flour into the sultana mix.
Pour into prepared cake tin and bake for 1 1/2 hours.