Old Fashioned Soft Pumpkin Cookies
HisPixie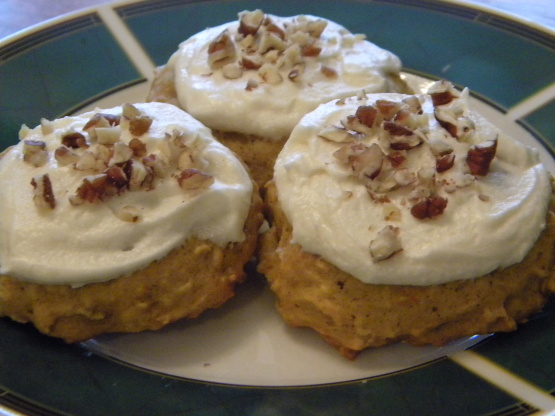 Enjoy these cookies on a cool Fall night, while sipping hot tea by the fireplace. Or, if you're like me, you can eat these cookies while dying of heat stroke in the dead of 'winter' in Florida !

I have been baking these cookies for a couple years now and every time I make them, I have to give up the recipe. They are delicious! I use a caramel icing, instead of glaze, using 1 cup brown sugar, 1/4 cup milk, 1/2 cup butter and cooking that on the stovetop for 2 minutes, then stirring in 1 tsp vanilla. After I let it cool to lukewarm, I beat in 2 cups powdered sugar. YUM!
Combine flour, baking soda, baking powder, salt and cinnamon in a medium bowl.
In a large bowl, cream butter and sugar.
Add pumpkin, egg, and vanilla; beat until light and creamy.
Mix in dry ingredients until well blended.
Drop rounded spoonfuls of dough onto greased cookie sheet.
Smooth tops of cookies.
Bake in preheated 350°F degree oven for 15-20 minutes.
Meanwhile, combine glaze ingredients, stirring until smooth and set aside.
Cool baked cookies on wire rack.
Drizzle glaze over top.
For variations, stir any one of the following ingredients into batter: 1 cup raisins, chopped nuts, or rolled oats and/or 1/2 cup crushed pineapple, drained.