Old-Fashioned Soda Crackers
loof751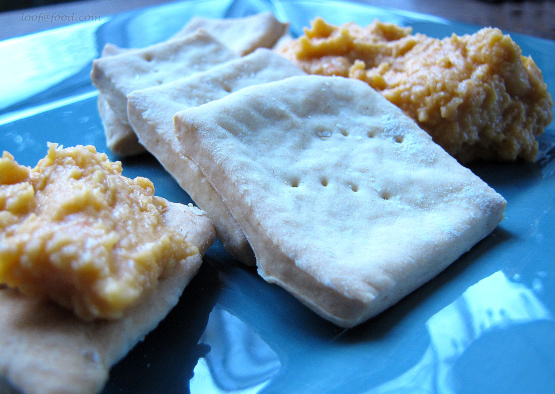 When I was in Mexico, one of the silliest but best things I remember eating, were homemade soda crackers that were served with our meal. They were still warm right out of the oven, and heavenly. We had them in a quaint little restaurant in a village called Taxco. These are just like them! It makes a lot, but you won't believe how quickly you'll go through them!!

Nice crackers. I modified this based on what I had on hand, I used Whole Wheat flour, and I used my noodle maker to roll it thin. Also taking the recommendation of another recipe I baked these directly on my pizza stone. These turned out great. I like them a bit darker so I had to watch while baking, but they didn't take long directly on the stone.
In large bowl, combine flour, baking soda and salt.
Cut in butter til crumbly.
Add water, stir just until mixed.
Turn dough out onto lightly floured surface and knead til thoroughly mixed. About 3 minutes.
Roll out dough, a fourth at a time, on well-floured surface to 1/8" thickness.
Cut into 2" squares.
Place 1" apart on ungreased cookie sheets.
Prick 2 or 3 times with a fork, then sprinkle with salt.
Bake in preheated 350º oven for 20-25 minutes or til lightly browned.