Old-Fashioned Snickerdoodles
Annacia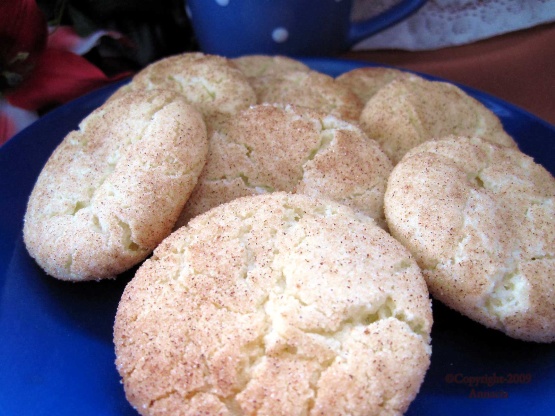 I searched long and hard for a truly satisfying snickerdoodle recipe. A friend gave me this recipe years ago. I tried it and found that it was exactly what I was looking for. I hope all of you enjoy it as much as I have.

These really are the old fashioned cookies that my generation knew as kids, I got 30 good sized cookies from this recipe. I gave them the 11 mins but next time I'll only go for 9. They aren't over baked but they have a crisp outside rim that my DH doesn't care for. He wants a soft center and edge. I like them just the way they came out. So choose your families preference because that 2 mins really does make a difference. Yummm!
Beat softened butter until creamy. Add your 1 cup sugar, baking soda and cream of tartar; mixing together. Beat egg and vanilla into the mixture. Slowly add the flour until entirely combined. At this point if you can manage to wait long enough, let the dough sit in the fridge for at least a half an hour. This step isn't absolutely necessary but it allows the dough to firm up so that it's easier to work with.
Stir together the 1 teaspoons cinnamon and 2 tablespoons sugar. Shape the dough into small balls and coat with your cinnamon/sugar mixture. Place a few inches apart on an ungreased cookie sheet. Bake in a preheated 375°F oven for 9 - 11 minutes (depending on how hot your oven runs). The recipe recommends taking them out of the oven when the edges are golden, but they are especially delicious slightly underbaked. They will be cool enough to eat in no time at all.