Old Fashioned Savoury Onion Stuffing
Pixie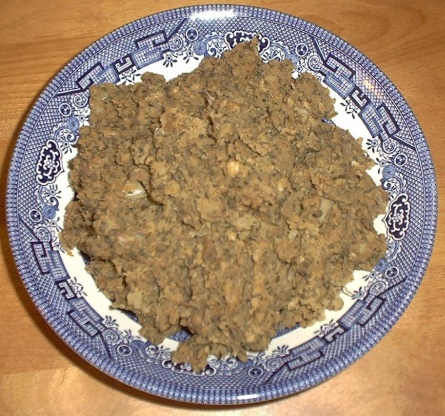 This is an old family recipe from my father's family that was passed down by learning how to make it in the kitchen. I don't think I've ever seen it written down anywhere. My father never used to measure anything. He started teaching me how to make this when I was 10, and eventually (given that we only made this a few times a year, Thanksgiving, Christmas, sometimes Easter) when he decided I was doing it right, I became the one to make it. I found the soya sauce add-in years after I left home by experimentation... This recipe makes a lot, enought to stuff one huge turkey or two smaller ones. My kids prefer it heated in a covered casserole dish in the oven or microwave rather than cooked in the turkey, they think the turkey fat cooking in with it makes it gross. I suspect they would think that of any stuffing... Leftovers reheat well in the microwave, or can be frozen.

Just like Mom used to make! I baked it in a dish until golden. Even my 4 year-old ate it! Thanks!
Melt the butter in a large saucepan (big enough to hold the onions) add the onions and 4 tablespoons of the summer savoury.
Simmer at a low heat, stirring every five minutes or so until the onions are very tender, this takes an hour or two.
Cook the potatoes until very tender, drain and mash with the milk.
Add the onion mixture, the bread, 1 tablespoon summer savoury, salt, pepper and optionally the soya sauce.
Mix well (I just use the potato masher and keep mashing until well combined).
At the point I taste the mixture and adjust salt and pepper and start adding more summer savoury until it's where I like it.