Old-Fashioned Sausage and Peppers
Bergy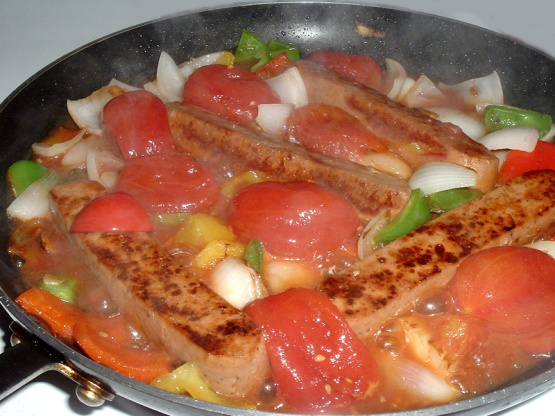 Top Review by Bergy
Sunday Brunch in this house is a big meal and this was perfect, served with an omelet and stir fries Jeruselum Artichokes with leeks (new recipe not yet posted) and crust baguette slices. I cut the amounts way back because there were only 3 of us. I confess I only used one pan but the flavors blended beautifully - Thanks Dancer another winner — Added comments: I made this again for supper and I made a mistake I used Vegetarian Hot Italian Sausages - It was nowhere near as tasty as last time - I posted this comment as a caution - follow the recipe. Also I used white onions they worked well,
Divide oil between 2 large skillets with lids; heat over medium heat.
Divide garlic, onion and peppers between skillets and cook, stirring as needed, until onion is translucent, about 5 minutes.
Add sausages, 4 to a skillet, and cook about 4 minutes more until sausages begin to brown.
Add tomatoes, wine, oregano and a pinch of salt to pans.
Cover, bring to simmer for about 25 minutes, until peppers are soft.
Season with salt and pepper.
Serve with crusty bread.