Old Fashioned Rhubarb Muffins
Boomette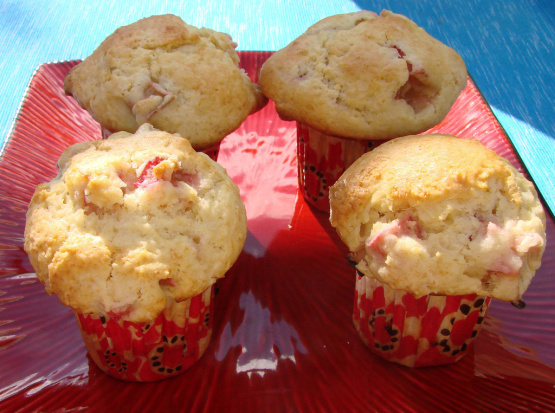 This is a great light tasting, easy to make muffin that's not too sweet, and has exceptional rhubarb flavour in each bite. From the Pilsbury Complete Baking book. I've used 1/2 cup whole wheat flour instead of all purpose with good results also. Add 1/2 tsp cinnamon too, if you like.

These cam out so delicious! I added a handful of chopped toasted walnuts and a scoop of leftover marmalade to the batter. The balance of sweet and tart was wonderful. I sprinkled the tops with cinnamon and sugar. Will make them again and again!
Combine flour, sugar, and baking powder. Set aside.
Combine milk, oil, vanilla, and egg in a mixing bowl.
Add dry ingredients, and stir just until mixed.
Fold in rhubarb.
Fill 12 to 18 muffin cups that have been sprayed with cooking spray, 2/3 full.
Bake at 400 degrees for 20 to 25 minutes.