Old-Fashioned Red Candied Apples
tapond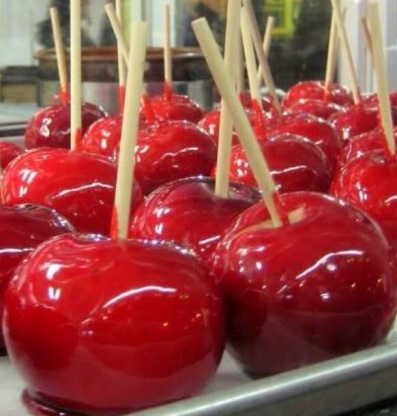 These are the kind you found at the circus or carnival! Not the newer version covered with cramel. ;) Candy thermometer is needed for this, as well as popsicle sticks. The number of apples needed depends on the size of the apples, probably 4 medium ones. The recipe states that each batch candies approximately 1 dozen medium apples. I'm not sure I trust that. Cook time depends on your altitude where you live, heat of your burner, and pot used. NOTE: See review by Canada Goose for helpful hints! Thanks, CG!

I'm so grateful that someone appreciates the old like I do. I think you are the only one with this recipe and it's perfect! Thanks again. Making these was so much fun for my fiance and I, messy too! ;)
Mix 1st 3 ingredients in saucepan.
Put on high heat with candy thermometer positioned in center of fluid level.
While it is boiling, thoroughly wash and dry your apples, and spear with the sticks.
Boil mixture until reaches hard crack (300ºF), then immediately add red food coloring and stir.
Quickly immediately dip the apples, twisting to cover, and set on a greased cookie sheet.