Thorsten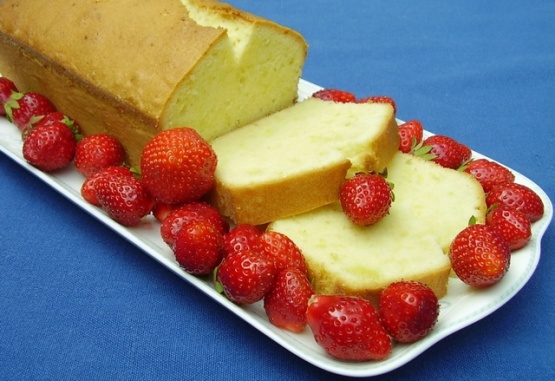 This will always remind me of my Grandma, she LOVED pound cake. Especially topped with sweetened strawberries and Cool Whip!

This is the one and only true recipe for the original pound cake, but I do things just a bit differently. This recipe, as written, tends to yield an unpleasantly dry texture, so on a friend's advice, I now add a cup of whole milk to the batter alternately with the cake flour and bake at 375 for an hour or until it tests done. I also add all the juice and zest from two large lemons. This gives me a cake with a very light, but dense texture and incredibly rich flavor that just begs for a homemade blueberry compote or masserated strawberries and whipped cream. Awesome!
Cream butter and sugar until very light and creamy.
Beat in eggs, one at a time, beating well after each.
Gradually add cake flour, blending thoroughly. (Use a medium speed for this.).
Add lemon rind and juice.
Bake in 2 greased and parchment paper-lined or waxed paper-lined 9x5" pans at 350º for about 1 hour and 15 minutes.
Frost or glaze, or leave plain.
*If wanting to make a half a recipe, use 5 eggs.