Old Fashioned Peanut Butter Cookies
Rita1652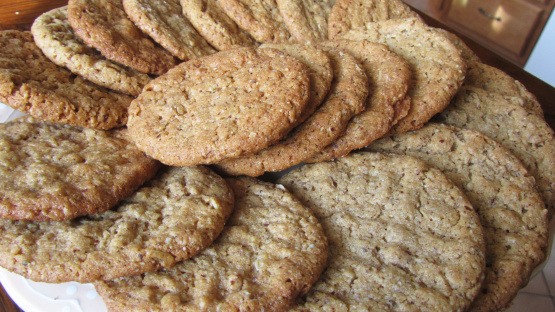 This is a great recipe - I brought these cookies to a get together, and they were gone really fast, with requests for the recipe. They're flexible because you can use smooth or crunchy peanut butter, as well. Enjoy!

Yummy!!!! Yes these are quick to put together. I did make some changes as DH asked for oatmeal cookies and when I came across these I knew I could tweak adding oats into peanut butter cookies which he likes. I really think peanut butter his the one food he couldn`t live without. Well Katzen you inspiredme to create this Recipe #490362 recipe. I did make it gluten free. Being I used almond meal in place of flour which is higher in oil I cut back to 1/2 cup oil, (my choice was coconut oil) made for veggie tag. Thank you for the yummy goodness and John thanks you too! ;)
Heat oven to 350°F.
Mix flour, baking powder, baking soda and salt; set aside. Beat butter, peanut butter and sugars in large bowl with mixer until light and fluffy. Blend in eggs and vanilla. Gradually add flour mixture, beating well after each addition.
Roll into tablespoonful size balls of dough, 2 inches apart, onto greased baking sheets. Flatten each, in criss-cross pattern, with tines of fork. I like to sprinkle a little sugar on top of the cookies for a bit of crunch. :o).
Bake for 8 to 10 minute or until golden brown. Cool on baking sheets 5 minutes; transfer to wire racks or paper towels. Cool completely.