Old Fashioned Oatmeal Raisin Cookies
Marlene.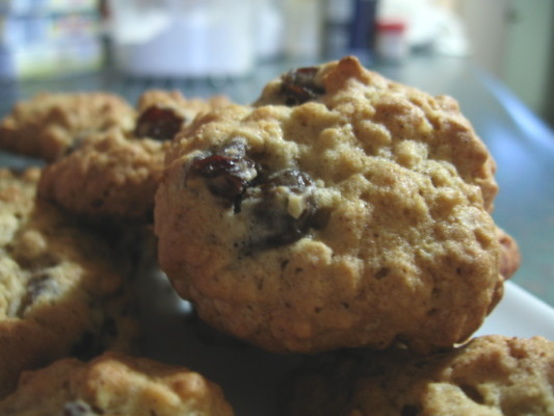 Cookies like Grandma used to make. The secret is boiling the raisins to plump them up, which adds a great dimension to the wonderful spicy taste of this soft cookie. These are real special!
This is an amazing recipe! I did make a few changes when I tried it. Instead of shortening I used unsalted butter. For the sugar I used 3/4 c white sugar and 3/4 c light brown sugar. I added 1/2 more oats for a total of 2 1/2 cups of oats. I also reduced the oven temp from 400 to 375 and baked for apx 12-15 minutes instead of 10. Result was soft, cake like cookies with a crispy edge. These are almost like Grandma's (but better).
Simmer raisins and water in saucepan over low heat until plump for 20 minutes.
Drain raisin liquid into measuring cup.
Add water to make 1/2 cup.
Heat oven to 400 degrees.
Cream shortening, sugar, eggs and vanilla.
Stir in raisin liquid.
Measure flour and combine with, baking powder, baking soda, salt and spices.
Stir into creamed mixture.
Add oats, nuts and raisins.
Drop by rounded teaspoonfuls 2" apart onto ungreased baking sheet.
Bake for 10 minutes.