Old-Fashioned Oatmeal Cookies
diner524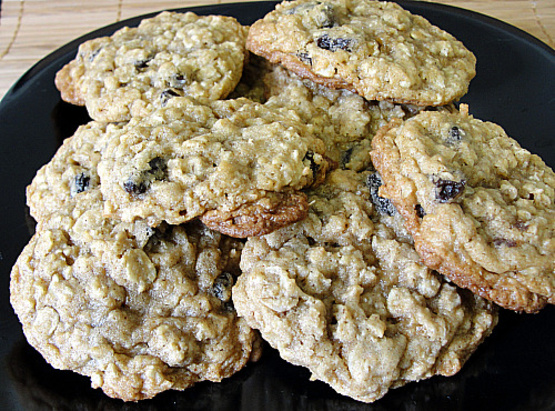 These tasty, chewy cookies will remind you of Grandma's cookie jar. Land-O-Lakes Cookbook.
WONDERFUL!!! We love oatmeal cookies that include cinnamon and my 17 yo DS just got home from school and ate 8 of them before I had chance to stop him from eating them all!! I made 1/2 of the recipe for the 3 of us, but now think I should have made the whole recipe but it still made 2 1/4 dozen cookies. These are very quick and simple to get together and produce a nice crisp outside but tender chewy inside!! Thanks daisygrl64 for sharing the recipe. Made for Dairy Event in photo forum!!
heat oven to 375*F.
in large mixer bowl combine all ingredients except flour and rasins.
beat at low speed, scraping bowl often, until well mixed.
add flour; continue beating until well mixed.
by hand stir in raisins.
drop dough by rounded teaspoonfuls 2"in apart onto greased cookie sheets.
bake 8 to 10 minutes or until edges are lightly browned.