3 Reviews
I have never made pasta in the microwave before and was intrigued to try it. I was surprised at how well the macaroni cooked. I used a whole-wheat macaroni and sharp cheddar cheese. I also liked the addition of sour cream, which is different. While the cheese melted well, it didn't really incorporate well throughout the dish as a traditional cheese sauce would. I also found that there was something lacking in order to give this a pop of flavor. It reheated well, but will definitely doctor this a little more when reheating the rest of the leftovers. Thanks for sharing. Made for Fall PAC 2012.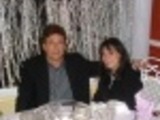 The lady who didn't like the texture of hers must have used artificial cheese,I used REAL cheddar cheese to make this recipe,(My husband hates what he calls plastic cheese) And it tasted great,and was a real treat for us.Thanks so much for this recipe,we loved it.Darlene
We liked the taste of this dish, but the texture was awful. It was not at all creamy and the cheddar cheese I used became lumpy and separated in the microwave. Reheating made it worse. I would like to modify the recipe by making a traditional cheese sauce with the cheese and milk and then stir in the sour cream.
Old-fashioned Macaroni