Old-Fashioned Hot Open-Faced Roast Beef Sandwich
lazyme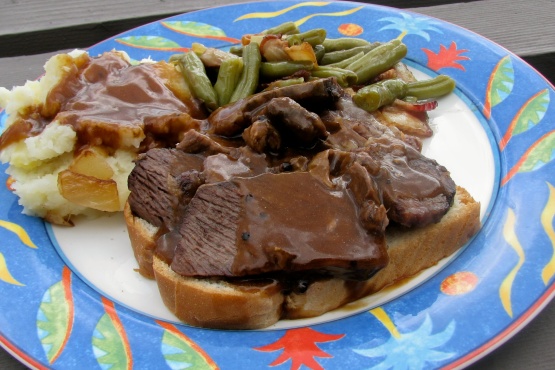 Thanks so much, without this I never would have known how to lay some left over beef and gravy on a slice of white bread. GENIUS!
473.18-946.36

ml leftover roast beef

473.18-946.36

ml leftover gravy
salt and pepper
fresh herb, of your choice (optional)

236.59

ml finely minced onion, sauteed lightly (optional)

8

slice bread, of your choice
Slice the roast into thin or thick slices as desired.
Warm the slices of roast in microwave or oven.
Heat the gravy in the microwave or on the stove top.
Add minced, sauteed onions and seasonings to the warmed gravy, if desired.
Lightly toast or leave untoasted the sliced bread.
Lay two slices of the sliced bread side-by-side on each plate.
Lay one slice of warmed meat on each slice of bread.
Pour desired amount of warmed, seasoned gravy over both slices of bread and meat.
Serve at once or reheat each plate in the microwave.